Pasta + Spritz = 14€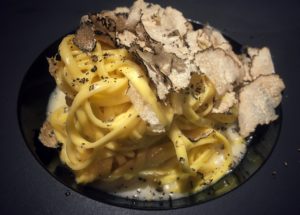 Lasagne with black Norcia Truffle and sautéed mushrooms, orecchiette with Italian salsiccia and pumpkin, maccheroncini with chestnuts, pumpkin and taleggio cheese, tagliolini with cuttlefish and Piennolo cherry tomatoes on a cream of chickpea, cocoa mezzelune filled with taleggio cheese and truffle, lasagnette with duck ragout and loads more (scroll down for the whole list!)… For one week some of the best Italian restaurants in Berlin will offer a special pasta dish (you have the choice between two really particular recipes – each portion is at least 100g), an Aperol Spritz (or another drink) for only 14€.
The event is organized by Berlin Italian Communication in partnership with the Istituto Italiano di Cultura di Berlino to celebrate the International Week of Italian Cuisine, which is promoted by the Italian Foreign Ministry and Ministry of Food and Forestry Policies. This event is supported by Campari, Aperol Spritz, Acqua Panna and San Pellegrino.
WHEN: TBA

 WHERE: at some of the best Italian restaurants in Berlin

 WHAT: 14€ for a special pasta dish and an Aperol Spritz.
More info soon, stay tuned!