Italian Guilty Pleasure Days 2017
20th to 26th November 2017
For breakfast, coffee-break or dessert, who can say no to a moment of sweetness? Cookies, cakes, pies, chocolate, Tiramisù and ice-cream are some of the most known and appreciated Italian sweets. But if you want to discover and taste the best of Italian patisserie do not miss the first "Italian Guilty Pleasure Days", the sweetest week in Berlin. The event is organized by Berlin Italian Communication within the network True Italian and in collaboration with Istituto Italiano di Cultura di Berlino. The event is part of the Week of the Italian Cuisine in the World 2017, promoted by the Italian Foreign Ministry and Ministry of Food and Forestry Policies.
For the fixed price of 4€ you will have the chance to taste a slice of cake or an ice-cream + a coffee or a cappuccino. The Italian Guilty Pleasure Map will help you to organize this delicious sweet tour. It follows the map of the Berlin underground and shows all the locals participating in the event.
Click here to download the map.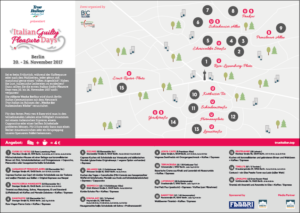 If you have a café, a bakery or a restaurant and you would like to be part of the event please write us an e-mail to:
commerciale@berlinocacioepepemagazine.com
The list of the partecipating locals with their offers will be posted soon.