World Pasta Days Germany
19th – 25th October 2020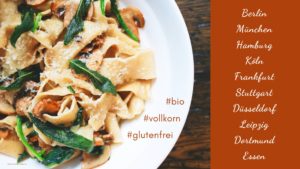 Over 30 restaurants in 10 German cities took part in the event (Berlin, Hamburg, Essen, Leipzig, Dortmund, Dusseldorf, Cologne, Frankfurt am Main, Stuttgart and Munich). The event lasted a whole week, from the 19th to the 25th of October: the selected restaurants offered a pasta speciality, including gluten-free, organic and whole wheat recipes.
The event has been organized together with the Italian Trade Agency in Berlin.
—
Italian Guilty Pleasure Days 2017
20th to 26th November 2017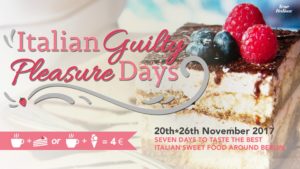 15 participating cafeterias/restaurants
4€ for a special Italian dessert and an espresso, a cappuccino or a hot chocolate
More than 1.500 True Italian dishes sold in the event week
—
Berlinitalienisches Tomatenfest
21st – 27th November 2016
18 participating restaurants
Special price (every place a different offer) for a dish with tomato and a drink
More than 1.500 True Italian dishes sold in the event week
The event has been featured by these media: B.Z., The Culture Trip, I Heart Berlin, Mit Vergnügen, Berlin Food Stories, Qiez, RS2, Spreeradio, VisitBerlin, Evensi, Partyzettel.de, Gvents.de, Eventsdroid, Actify, Dobberknispel, Fraeuleinchen, Metropolenherz, Fine Restaurants Finder.