True Italian Pizza Week Stuttgart 2020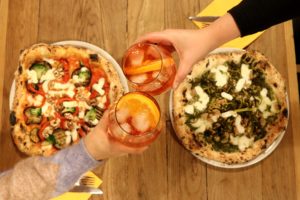 *ENG*
Neapolitan or "romana"; pinsa or al taglio (in slices); gourmet, fried or "a portafoglio" if you need it to go. With mortadella, pistachios, fresh burrata, salsiccia, cherry tomatoes, provola and sometimes even black or carbonara style.
We have created a special event to bring all of the real Italian pizza tradition right to you: the True Italian Pizza Week 2020.
After three successful years in Berlin, we are finally coming to Stuttgart!
How does it work?
A tasteful Italian Pizza + an Aperol Spritz for only 12€, for a WHOLE WEEK!
Look for the participating restaurants on the customized True Italian Map and ask for the special offer!
Where?
Our stage is the WHOLE CITY! Navigate around Stuttgart with the True Italian Pizza Week special map and find the nearest station to the selected restaurant! Easy, right?!
And if you love taking creative pictures of some good-looking (and tasteful, of course) food, stay tuned and take part in the True Italian Pizza Week Instagram contest… soon all the rules to win "nu gruosso riàlo"!! (a huge prize 
 )
WEST
MITTE
BIRKACH
OST
MÜHLHAUSEN
FEUERBACH
Da Nello
WANGEN
Pizza Capricciosa with tomato sauce, mozzarella, artichokes, olives and champignons OR Pizza Saporita with tomato sauce, mozzarella, spicy salami, gorgonzola cheese and onions
BAD CANNSTADT
Pizza Calabrese with tomato sauce, mozzarella and spicy salami OR Pizza Rusticone with mozzarella, fresh tomatoes, rocket and parmesan