4th – 10th April 2019
32 pizzerias, one week, one fixed price: True Italian Pizza Week Berlin is a celebration of the best and authentic pizzas in Berlin.
Regina Margherita, marinara, mortadella e pistacchi, amatriciana, parmigiana, cacio pepe, Bufala, with red wine, squid ink or wholegrain flour dough, with Parma ham, wild boar ham or Lardo di Colonnata: no matter what's on the top, pizza is the proper symbol of the Italian cuisine and, since 2017 is a Unesco World Heritage thanks to the particular way of preparing it typical of Neapolitan pizza makers. True Italian Pizza Week Berlin aims to honor one of the symbols of the Italian gastronomic culture with a special initiative involving the best pizzerias in the German capital.
Read this article in Italian or German.
The event
True Italian Pizza Week Berlin will take place from April 4th to 10th in all of the 32 participating restaurants (please scroll down to discover all pizzerias and their pizzas on offer). Here you can ask for the event menu: you will have the chance to taste authentic Italian pizza (choosing between two kinds – vegetarian options available) and match it with an Aperol Spritz or a Campari Amalfi and an Amaro Averna paying just 12€. There are also some special offers for just 10€, scroll down to discover them all! Following in the footsteps of all other True Italian events, the True Italian Pizza Week wants to promote the variety and excellence of genuine Italian food in Berlin.

The map
During the True Italian Pizza Week's 7-days festival, Berliners will be provided with a city metro map in which the stations are replaced by the pizzerias taking part with their pizza offer. Furthermore, the map can still be used after the event: the True Italian selection of the best Italian pizzerias in Berlin can be useful for those interested in trying the wide Italian gastronomic offer in the city at any time of the year. The map will be available in all participating restaurants and in our office in Gryphiusstr. 23 in Friedrichshain starting from 10 days before the event. Or you can download it as PDF at this link.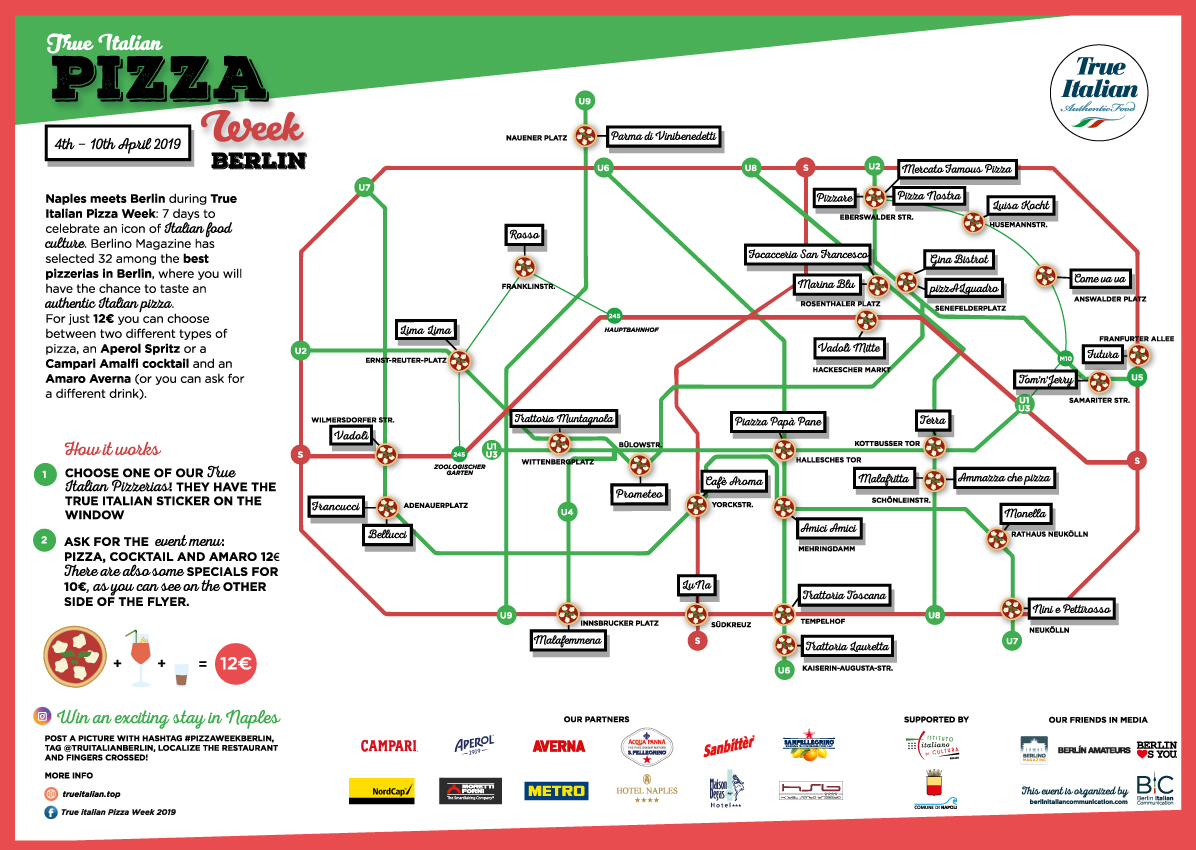 Our partners
The event is organized by Berlin Italian Communication within the project True Italian and supported by the Italian Cultural Institute of Berlin and the Municipality of Naples. Sponsors are the Italian liquors Campari, Aperol and Averna, the Italian waters Acqua Panna & San Pellegrino, the leader in catering equipment Moretti Forni, the German retail company METRO Deutschland, and three hotels in Naples: Hotel Santa Brigida Napoli, Hotel Naples and Hotel Maison Degas. Thanks to the partnership with the Municipality of Naples and these hotels we will organize a photo contest which main prizes will be 3 or 2 days stay in Naples. Media partners are Berlino Magazine, Berlin Loves You and Berlin Amateurs.
What makes a pizza "True Italian"?
First thing first, pizza is a healthy food. If pizza is made following the Italian tradition, it is prepared with a certain amount of yeast and it has many hours of rising time (from 9 to, in certain cases, 72 hours). If after eating a pizza you feel very thirsty or bloating, it means that there was too much yeast or the dough has not risen enough. Unfortunately it's not possible to understand it from the flavour, it's just a matter of digestibility. A True Italian pizza is light, tasty and made with high quality products only. This is the principle of every restaurant involved in the True Italian Pizza Week.
True Italian Pizza Week Berlin
4th – 10th April 2019
PARTICIPATING RESTAURANTS, ADDRESSES, OPENING HOURS AND SPECIALTIES
In each place one of the two pizzas on offer + Aperol Spritz or Campari Amalfi + Amaro Averna for 12€
Specials have different offers for 10€
CHARLOTTENBURG:
Bellucci | Ristorante & Bar
Brandenburgische Str. 35, 10707 Berlin
Monday-Saturday 12-24, Sunday 17-24
Pizza with spelt flour, buffalo mozzarella, lardo di Colonnata, escarole and toasted pine nuts OR Pizza with green asparagus, smoked provola cheese and cherry tomatoes
Francucci Ristorante
Kurfürstendamm 90, 10709 Berlin
Everyday 12-23
Pizza with aubergines, buffalo mozzarella and basil OR Pizza Marinara (tomato sauce, spanish anchovies and aromatic olives)
LimaLima Café-Bistro, Ristorantino
Schlüterstr. 74, 10625 Berlin
Tuesday-Saturday 17-22, Sunday-Monday closed
Pizza with tomato sauce and pieces of parmigiana (fried aubergines, tomato, basil, mozzarella, provola cheese and parmesan) OR pizza with mozzarella, provola cheese, sausage and friarielli
Rosso Berlin
Helmholtzstraße 24, 10587 Berlin
Sunday-Friday 11:30-21, Saturday 16-21
"Pinsa Romana" Montagnola (tomato sauce, mozzarella, speck, mushrooms and olives cream) OR Estiva (mozzarella, pecorino cheese, zucchini, lemon and mint)
Vadoli
Kantstr. 55, 10627 Berlin
Everyday 11-23
SPECIAL: Pizza Bufala Heaven (tomato sauce, cherry tomatoes, rucola, Bio buffalo mozzarella, parmesan and basil) OR Pizza Speciale (tomato sauce, mozzarella, salami, champignons, bresaola) + soft drink = 10€
SCHÖNEBERG:
Ristorante Café Aroma Photogalerie
Hochkirchstraße 8, 10829 Berlin
Everyday 17-23
Pizza Zio Pepe (tomato sauce, mozzarella, taleggio cheese, spicy salami and olives) OR Pizza Palazzo Verticale (tomato sauce, mozzarella, aubergines, spinach and peppers)
Prometeo
Goebenstr. 3, 10783 Berlin
Monday-Saturday 12-22, Sunday 15-22
Pizza Sara (mozzarella, radicchio, gorgonzola, pears and walnuts) OR Pizza Parmigiana (tomato sauce, mozzarella, fried aubergines and parmesan)
Pizzeria LuNa
Gotenstr. 18, 10829 Berlin
Everyday 12-24
Pizza with rucola, Parma ham, pesto and raw buffalo mozzarella OR Pizza with mozzarella, nduja, zucchini and radicchio
Trattoria Muntagnola
Fuggerstr. 27, 10777 Berlin
Everyday 17-24
Vegetarian pizza with mozzarella, escarole, black olives and capers OR Pizza with tomato sauce, mozzarella and mortadella
STEGLITZ:
Malafemmena +39 Berlin
Hauptstr. 85, 12159 Berlin
Everyday 12-23
Focaccia stuffed with mortadella, rucola and parmesan OR Pizza marinara with yellow and red Piennolo tomatoes from Vesuvio region
WEDDING:
PARMA di Vinibenedetti
Utrechter Str. 31, 13347
Everyday 18-23
Pizza with tomato sauce, chopped tomatoes, mozzarella, anchovies and oregano OR Pizza with tomato sauce, mozzarella, chopped tomatoes and champignons
KREUZBERG:
Amici Amici
Mehringdamm 40, 10961 Berlin
Everyday 18-23
Pizza with tomato sauce, mozzarella, leek and sundried tomatoes OR Pizza with mortadella, cheese cream and pistachios
Malafritta – I fritti di Malafemmena
Kottbusser Damm 1, 10967 Berlin
Sunday-Thursday 12-22:30, Friday-Saturday 12-23:30
SPECIAL: Fried pizza stuffed with bacon, provola cheese and mushrooms OR with radicchio, mozzarella and walnuts + small fried pizza stuffed with Nutella + beer or soft drink = 10€
Piazza papà pane bei Yasmin
Wilhelmstraße 15, 10963 Berlin
Everyday 12-24
Pizza with tomato sauce, mozzarella, Parma ham, stracciatella and marinated cherry tomatoes OR Pizza with spiced wine dough, mozzarella, tomato, herb mix with candied ginger, fresh asparagus, strawberries and sour cream with lemon
Terra
Grimmstr. 1, 10967
Monday-Saturday 16-24, Sunday 12-23
Pizza made with squid ink dough, tomato sauce, codfish, buffalo mozzarella, olives and sun dried tomatoes OR Pizza with mozzarella, wild boar ham from Brandenburg, goat cheese and redcurrant
NEUKÖLLN:
Ammazza che Pizza
Maybachufer 21, 12047 Berlin
Tuesday-Sunday 12-22.30, Monday closed
Pizza Mortazza (mozzarella, mortadella and chopped pistachios) OR Pizza Ortolana (tomato sauce, mozzarella and grilled peppers, aubergines and zucchini)
Monella
Weichselstr. 17, 12045 Berlin
Monday-Sunday 18-23
Pizza Arrabbiata (tomato sauce, mozzarella, pecorino romano cheese, chili and parsley) OR Pizza Cacio e Pepe (mozzarella, pecorino romano cheese, grated parmesan, freshly ground black pepper and basil)
Nini e Pettirosso
Selkestr. 27, 12051 Berlin
Everyday 10-24
Pizza Margherita with tomato sauce, buffalo mozzarella, parmesan and basil OR Pizza with beetroot cream, mozzarella and salty ricotta cheese
MITTE:
Caffè Focacceria San Francesco
Kastanienallee 64, 10119 Berlin
Everyday 9-23:30
Pizza with wholegrain flour, selvatic rucola, beef carpaccio, stracciatella and cherry tomatoes OR Pizza Tris Vegetale: 1/3 with tomato sauce, aubergines, mozzarella and parmesan; 1/3 with yellow cherry tomatoes, gorgonzola and walnuts; 1/3 with asparagus, parmesan and bechamel
Gina Bistrot
Zionskirchstr. 77, 10119 Berlin
Monday-Wednesday 12-18, Thursday-Sunday 12-20
SPECIAL: 2 different slices of focaccia: barese (fresh cherry tomatoes) and potatoes and porchetta + Aperol Spritz o Campari Amalfi cocktail + Amaro Averna = 10€
Marina Blu
Weinbergsweg 8a, 10119 Berlin
Everyday 17-23
Pizza with mozzarella, baked potatoes, red onions and mushrooms OR Pizza with mortadella, stracciatella cheese and pistachio cream
Vadoli Mitte
Oranienburger Str. 13-14, 10178 Berlin
Everyday 11-23
SPECIAL: Pizza Bufala Heaven (tomato sauce, Bio buffalo mozzarella, cherry tomatoes, fresh rucola, parmesan and basil) OR Pizza Bud Spencer (tomato sauce, mozzarella, beans, carne salada, Montoro's onion, parmesan and basil) + soft drink = 10€
FRIEDRICHSHAIN:
Futura Neapolitan Pizza
Bänschstr. 91 10247 Berlin
Tuesday-Sunday 18-23, Monday closed
Pizza "Margherita al Filetto" (cherry tomatoes, buffalo mozzarella and 6 months aged provolone del Monaco cheese) OR Pizza Gialla (mozzarella, yellow cherry tomatoes, anchovies, olives and capers)
Tom'n'Jerry
Proskauer Str. 13, 10247 Berlin
Everyday 12-23
Pizza Vegetariana (tomato sauce, mozzarella, zucchini, peppers, olives, mushrooms and artichokes) OR Pizza Calabria (tomato sauce, mozzarella and Calabrian spicy salami)
PRENZLAUER BERG:
COME VA' VA'
Danziger Str. 144, 10407 Berlin
Monday-Friday 12-22:30, Saturday 17-22:30, Sunday 15-22:30
SPECIAL: Pizza Amatriciana (tomato sauce, mozzarella, bacon, chili and pecorino romano cheese) OR Pizza Primavera (mozzarella, zucchini and stir fried cherry tomatoes) + beer or soft drink = 10€
LuisaKocht Feinkostladen
Danziger Str. 49, 10435 Berlin
Tuesday-Saturday 12-20, Sunday-Monday closed
SPECIAL: Fried pizza Montanara with San Marzano tomatoes, buffalo mozzarella and pecorino cheese OR with yellow Piennolo tomatoes from Vesuvio region, sheep ricotta and lemon from Sorrento + pizza stripes with pistachio cream from Sicily + soft drink = 10€
Mercato Famous Pizza
Danziger Straße 16, 10435 Berlin
Sunday-Wednesday 12-22, Thursday-Saturday 12-23
Pizza Meat Lovers (tomato sauce, mozzarella, sausage, artisan ham and salami) OR Pizza Primavera (mozzarella, roasted red peppers, artichoke hearts, roasted mushrooms, olives, red onions, fresh basil and parmesan)
Pizzalquadro
Prenzlauer Allee 27A, 10405 Berlin
Tuesday-Friday 12-22, Saturday-Sunday 16-22, Monday closed
Vegetarian pizza (tomato sauce, mozzarella, spinach, mushrooms, artichokes and lemon) OR Pizza with ham and mushrooms (tomato sauce, mozzarella, ham and mushrooms)
Pizzare Prenzlauer Berg
Eberswalder Str. 21, 10437 Berlin
Monday-Thursday 11:30-23:30, Friday-Sunday 11:30-24
Pizza 5 Formaggi & Tartufo (mozzarella, parmesan, mascarpone, gorgonzola, smoked scamorza and black truffle sauce) OR Pizza Norma Gourmet (tomato sauce, mozzarella, fried aubergines, pesto, baked potatoes and stracchino)
vegan +3€, gluten free +4,50€
Pizza Nostra
Lychener Str. 2, 10437 Berlin
Everyday 17-21
SPECIAL: Pizza Diavola (tomato sauce, mozzarella, spicy salami and olives) OR Pizza Cacio e Pepe (mozzarella, scamorza, pecorino romano cheese and pepper) + beer or soft drink = 10€
TEMPELHOF:
Trattoria Lauretta
Burgemeisterstr. 74, 12103 Berlin
Tuesday-Saturday 17-23, Sunday 12-23, Monday closed
Pizza Verde (mozzarella, rucola pesto, guanciale and cherry tomatoes) OR Pizza Parmigiana (tomato sauce, mozzarella, aubergines, cherry tomatoes and grated parmesan)
Toscana Tempelhof
Tempelhofer Damm 104, 12099 Berlin
Tuesday-Sunday 11.30-24, Monday closed
Pizza Favolosa (mozzarella, buffalo mozzarella, zucchini and olives cream, salmon and basil) OR Pizza ai Frutti di Mare (tomato sauce, mozzarella and seafood)