For one week there will be a special offer in 33 of the best pizzerias in Berlin: with 12€ you can choose over two types of special pizzas and an Aperol Spritz. After the success of the last year we are glad to announce to you all the fourth edition of the True Italian Pizza Week in Berlin.
Pizza with spelt dough, summer vegetables, red pesto and almonds either pizza with San Marzano's tomatoes, parmesan, fried eggplants, Agerola's fiordilatte and pecorino's cream or pizza with fiordilatte, pears, walnuts and gorgonzola or pizza with nduja, radicchio, Italian sausage and burrata stracciatella, or even pizza with wild boar sausage, seitan salami, almond ricotta, chili infused vegan honeyn and fresh basil…
These are just some of the exceptional pizzas offered at True Italian Pizza Week, which arrives again in  Berlin after the success of last year's first edition. Furthermore, the event will take place simultaneously in  other German cities: Hamburg, Hannover, Frankfurt, Münster, Leipzig, Cologne, Mannheim, Nümberg, Düsseldorf, Stuttgart and Munich. When? From 9th to 15th September 2021. The aim of the event is to make known and celebrate Pizza as the emblem of the gastronomic culture of our Belpaese, symbol of the Italian excellence and from 2017 also recognised by UNESCO as World Heritage, throughout Germany. So there will be many pizzerias involved, ingredients and doughs are already chosen but the formula will always be the same: you'll have to choose between two types of authentic Italian pizzas, that will be accompanied by an Aperol Spritz, at the special price of 12 €.
Read this article in German or Italian.
True Italian Pizza Week, how it works
The True Italian Pizza Week of Berlin, will take place from September 9th until September 15th in all the 33 participating restaurants and simultaneously in Hamburg, Cologne, Leipzig, Frankfurt, Düsseldorf, Stuttgart, Hannover, Manheim, Nurnberg, Munster and Munich. Taking advantage of the offer is very easy: you'll only have to decide the restaurant where you want to eat, go there during the event's week and ask for the True Italian Pizza Week menu with two different pizza types (a vegetarian or vegan option is always available), and an Aperol Spritz or an alcohol-free drink for 12€ only. Scroll down to read the full list of the participating restaurants.
True Italian Pizza Week, take part and win!
This year, hoarding a flyer is even more convenient! Every time you visit a partecipating pizzeria, ask for a small sticker of the pizza and put it on the flyer next to the name of the pizzeria you have visited. If you collect at least 3 stickers you can send the picture of your flyer to the e-mail trueitaliancontest@gmail.com and take part to the selection of a suprise Aperol package. But, on the occasion of the True Italian Pizza Week 2021, this it won't be the only event organized by True Italian! As usual it will be possible to join an Instagram contest too: by taking a picture in one of the participating restaurant and by posting it on your own Instagram profile, might make you win a trip to Naples (flight and stay in hotel). More information will be given soon on this channel or on True Italian's social.
True Italian Pizza Week, the map
During the True Italian Pizza Week's 7- days festival, everyone will be provided with a city metro map in which the stations are replaced by the pizzerias that are taking part with their pizza offers. On the front of the flyer, you can also find the list of the participating restaurants together with their opening times, addresses and pizza offers. The map will be available in all participating restaurants, as a PDF such as this link, and on Google Maps.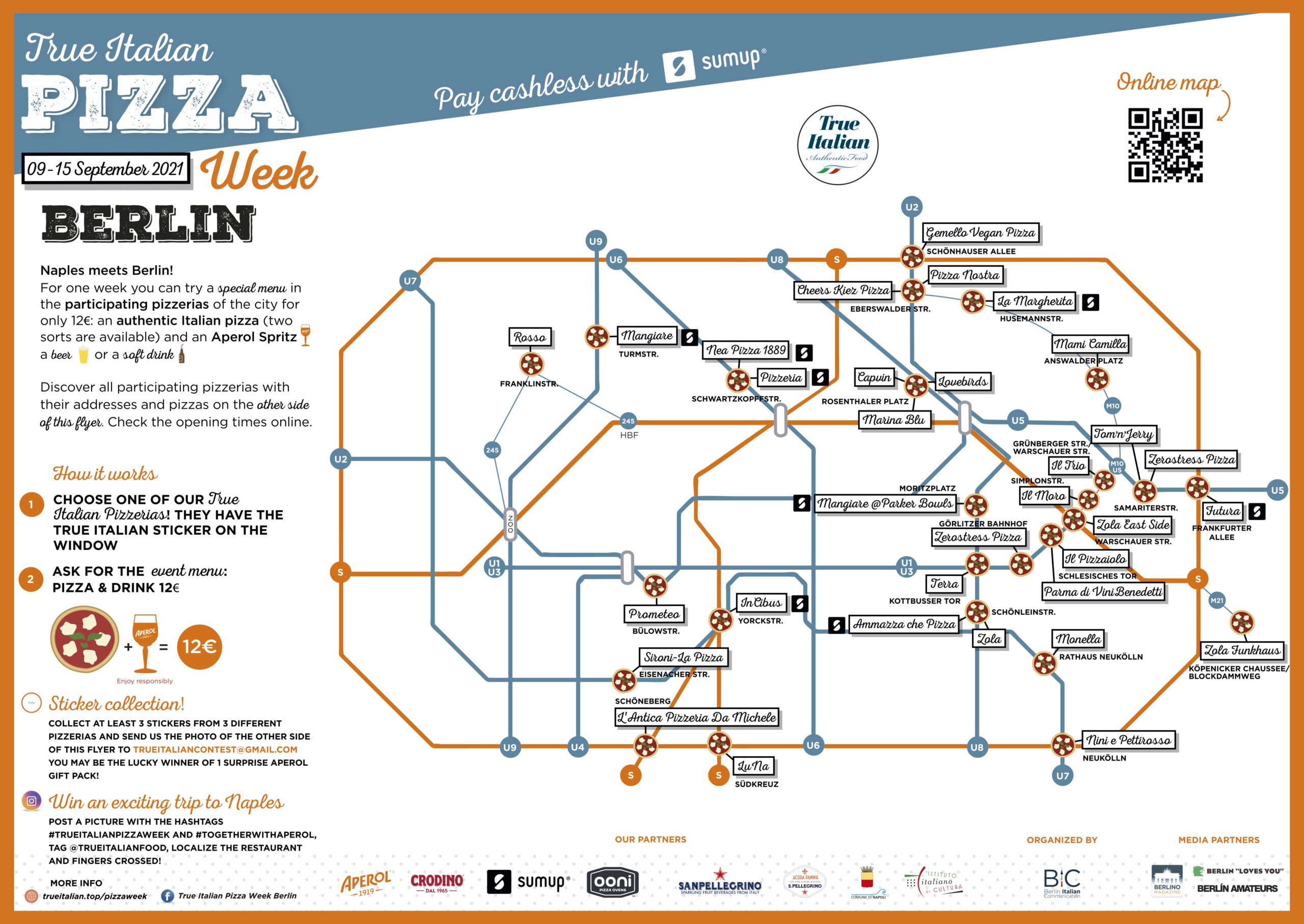 Save the map for your next pizza nights, also outside the event!
True Italian Pizza Week, organizers and partners
The event is organized by Berlin Italian Communication within the project True Italian in collaboration with Campari Deutschland. It is supported by Italian Culture Institutes of Germany. Partners in Berlin are Acqua Panna and San Pellegrino, SumUp and Ooni.
The True Italian Project
True Italian is a network that aims to preserve authentic Italian restaurants in Germany through its brand (registered in the Deutsches Patent und Markenamt, the German patent and trademarks office), as well as a number of other initiatives and events held throughout the year. The project is pursued by Berlin Italian Communication/Berlino Magazine, a point of reference for the Italian community and all those passionate about Italy who find themselves in Berlin. True Italian is made up of all the ambassadors of Italian cuisine who, starting from the product selection, show their passion for spreading the culture of "good eating". When we talk about True Italian, we do not only focus on the chef/owner's nationality but also on their approach to food. Creativity in the recipes and high-quality ingredients: these are the focus points for True Italian restaurants.
True Italian Pizza Week 2021
From 9th to 15th September 2021
PARTICIPATING PIZZERIAS
🔸MITTE🔸
📍Weinbergsweg 24, Berlin
🍕Pizza Puttanesca Sbagliata with San Marzano tomato sauce, oregano, garlic, capers, olives and cold pressed olive oil OR Pizza Prosciutto Estivo with fiordilatte mozzarella, ham, basil-mint pesto, lemon zest and cold pressed olive oil
Lovebirds – Contemporary pizza
📍Rosenthaler Str. 3, Berlin
🍕Pizza Wilde with potato cream, Agerola's fiordilatte mozzarella, wild boar sausage from Brandenburg and red wine reduction OR Pizza Mari[nera] with San Marzano tomato sauce, garlic flakes, fresh and dried oregano, black garlic cream and basil
📍Weinbergsweg 8a, Berlin
🍕Pizza with organic and ancient grain flours, with cherry tomatoes, mozzarella, tuna, olives and caramelised Tropea red onions OR Pizza bianca with organic and ancient grain flours, gorgonzola, figs and walnuts
📍Chausseestr. 49, Berlin
🍕Pizza Pistacchio & Co with Apulian organic stracciatella, Agerola's fiordilatte mozzarella, Bronte's pistachio, mortadella, caviar vinaigrette and extra-virgin olive oil OR Pizza La Margherita 2.1 with San Marzano tomato sauce, yellow cherry tomatoes, Agerola's provola, basil pesto, buffalo ricotta, pepper, Roman pecorino and extra-virgin olive oil
📍Chauseestr. 56, Berlin
🍕Pizza la Cilentana with yellow fresh Piennolo tomatoes, Agerola's fiordilatte mozzarella, buffalo mozzarella, black pepper, virgin olive oil and fresh wild basil OR Pizza Nduja with tomato sauce, Agerola's fiordilatte mozzarella, nduja, red onions, virgin olive oil and wild basil
🔸MOABIT🔸
📍Arminiusstr. 2-4, in the Arminius Markthalle, Berlin
🍕Pizza with mozzarella, broccoli and Italian sausage OR Vegan pizza with tomato sauce, artichokes, sun-dried tomatoes and broccoli
🔸CHARLOTTENBURG🔸
(CLOSED SATURDAY and SUNDAY)
📍Helmholtzstr. 24, Berlin
🍕Pinsa with tomato sauce, mozzarella, nduja, peppers and sweet onions OR Pinsa with mozzarella, taleggio cheese and mushrooms
🔸PRENZLAUERBERG🔸
📍Choriner Str. 37, Berlin
🍕Pizza Aubergine vegan with tomato sauce, vegan parmesan, eggplants, caramelized onions and basil pesto OR Pizza Diavoletta with tomato sauce, fiordilatte mozzarella and spicy salami
📍Schönfließer Str. 16, Berlin
🍕Pizza Ocean by Night with horseradish cream, carrot salmon, red onions and fresh dill OR Pizza Sweet Sin with yellow tomatoes, seitan salami, almond ricotta, chili infused vegan honeyn and fresh basil (both vegan)
La Margherita
📍Danziger Str. 35, Berlin
🍕Pizza Rustica with mozzarella, potatoes, smocked ham, rosemary and cream OR Pizza Parmigiana with tomato sauce, mozzarella, fried eggplants, parmesan and basil
📍Hufelandstr. 36, Berlin
🍕Pizza with mashed potatoes, Italian sausage, mozzarella and crunchy rosemary OR Pizza with zucchini cream, garlic, sun-dried tomatoes and parmesan flakes
📍Lychener Str. 2, Berlin
🍕Pizza with mozzarella, cardoncelli mushrooms, scamorza cheese and flavoured breadcrumbs OR Pizza with mozzarella, Genovese ragout, pecorino and baked potatoes
🔸KEUZBERG🔸
📍Schlesische Str. 28, Berlin
🍕Pizza Nerano with fioridlatte mozzarella, olives-mushrooms-ricotta cream, portobello mushrooms, cherry tomatoes and pecorino OR Pizza La Luna with provola cheese, eggplants, sun-dried tomatoes and asiago cheese
📍Monumentenstr. 26, Berlin
🍕Pizza Bianca with fiordilatte mozzarella, radicchio, Italian sausage and burrata stracciatella OR Pizza vegetariana with beetoroot cream, fiordilatte mozzarella, grated goat cheese and walnuts
📍Prinzenstr. 85d, Berlin
🍕Pizza with mozzarella, broccoli and Italian sausage OR Vegan pizza with tomato sauce, artichokes, sun-dried tomatoes and broccoli
📍Wrangelstr. 90, Berlin
🍕Pizza with tomato sauce, mozzarella, arugola and chili pepper OR Pizza with tomato sauce, mozzarella, bacon, zucchini and pecorino
📍Grimmstr. 1, Berlin
🍕Pizza The Black Trout with squid ink dough, salmon trout, beetroot, horseradish and Tropea onions OR Pizza The Summer Truffle with fiordilatte mozzarella, potatoes, parmesan and truffle (also vegan available)
📍Lausitzer Platz 10, Berlin
🍕Pizza Bufala Lovers with tomato sauce, buffalo mozzarella, coppa and artichokes OR Pizza Veggie Bufala with tomato sauce, buffalo mozzarella, artichokes and olives
📍Paul-Lincke-Ufer 39-40, Berlin
🍕Pizza Zola with fiordilatte mozzarella, pears, walnuts and gorgonzola OR Pizza Salami with tomato sauce, fiordilatte mozzarella, Napoli salami, oregano and parmesan
🔸TREPTOW-KÖPENICK🔸
📍Nalepastr. 18, Berlin
🍕Pizza Zola with fiordilatte mozzarella, pears, walnuts and gorgonzola OR Pizza Salami with tomato sauce, fiordilatte mozzarella, Napoli salami, oregano and parmesan
🔸FRIEDRICHSHAIN🔸
📍Bänschstr. 91, Berlin
🍕Pizza Margherita Futura with San Marzano tomato sauce, buffalo mozzarella, fresh basil and extra virgin olive oil OR Pizza Piccante with skined yellow tomatoes, buffalo mozzarella, Ventricina salami, fresh basil and extra virgin olive oil
📍Wühlischstraße 39A, Berlin
🍕Pizza with San Marzano tomato sauce, mozzarella, fried aubergines and nduja OR Pizza Norma with San Marzano tomato sauce, mozzarella, fried aubergines and salted ricotta cheese
📍Simon-Dach-Str. 39, Berlin
🍕Pizza Casalinga with potatoes, mozzarella, Italian sausage, stracciatella cheese and rosemary OR Pizza Tricolore with tomato sauce, zucchini, sardines, black olives, basil and mozzarella
📍Proskauer Str. 13, Berlin
🍕Pizza with tomato sauce, mozzarella, ham and mushrooms OR Pizza with tomato sauce, mozzarella and mixed vegetables
📍Colbestr. 3, Berlin
🍕Pizza Bufala Lovers with tomato sauce, buffalo mozzarella, coppa and artichokes OR Pizza Veggie Bufala with tomato sauce, buffalo mozzarella, artichokes and olives
📍Mühlenstr. 70-71, Berlin
🍕Pizza Zola with fiordilatte mozzarella, pears, walnuts and gorgonzola OR Pizza Salami with tomato sauce, fiordilatte mozzarella, Napoli salami, oregano and parmesan
🔸NEUKÖLLN🔸
📍Maybachufer 21, Berlin
🍕Pizza Carbonara with fiordilatte mozzarella, pecorino, guanciale, egg and black pepper OR Vegan Pizza Pugliese with tomato sauce, kalamata olives, capers and oregano
📍Weichselstr. 17, Berlin
🍕Pizza Monella with San Marzano tomato sauce, Agerola's fiordilatte mozzarella, Pachino cherry tomatoes, fresh basil and buffalo mozzarella OR Pizza Urlo with San Marzano tomato sauce, Agerola's fiordilatte mozzarella, parmesan, fresh basil, fried eggplants and pecorino cream
📍Selkestr. 27, Berlin
🍕Pizza with cacio (sheep cheese) and black pepper in grains, fiordilatte mozzarella and crumbled taralli OR Pizza with San Marzano tomato sauce, smoked provola cheese, fried eggplants, basil and parmesan
🔸SCHÖNEBERG🔸
📍Fritz-Reuter-Str. 7, Berlin
🍕Pizza Margherita Provola e Pepe with tomato sauce from Campania, provola cheese, pecorino romano, black pepper, basil and soybean oil OR Pizza La Carciofina with Agerola's fiordilatte mozzarella, artichokes, arugula, parmesan flakes, basil and soybean oil
📍Gotenstr. 18, Berlin
🍕Pizza Parmigiana with tomato sauce, mozzarella, fried eggplants and smoked scamorza OR Pizza Bianca with mortadella, figs, provolone cheese and red wine reduction
📍Goebenstr. 3, Berlin
🍕Pizza with homemade porchetta, baked potatoes and cherry tomatoes OR Pizza with mozzarella and confit tomatoes
📍Goltzstr. 36, Berlin
🍕Pizza Capperi with spelt dough, tomato sauce, capers, anchovies, taggiasca olives, oregano and basil OR Pizza Vegana with spelt dough, yellow cherry tomatoes, seasonal summer vegetables, red pesto and almonds