Daviduzzu, stage name of Davide Chisari, brings Sicilian culinary art to Berlin with his food truck.
Davide Chisari is a Sicilian cook that decided to leave the prestigious hotels in which he was working to move to Berlin.
Here, since 2017, he offers Sicilian street food par exellence: arancini, rice crispelle, but also starters and main courses. His restaurant? A food truck named "Daviduzzu Sicilian Street Food Berlin". A real joy for the ones who search top-quality food unusual recipes (unless you're in Sicily).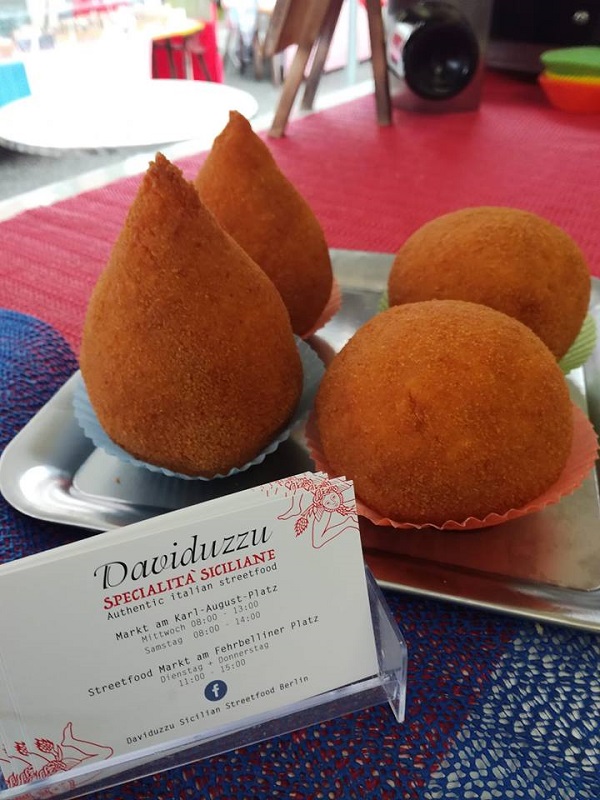 The Sicilian Street Food of Daviduzzu
Despite being 2200 km away from Paternò, a province of Catania, I make sure to cook with my garden's products. Oranges, lemons, artichokes, but also wild fennels, prickly pear that come direclty from my homeland. My parents are the ones that send me a package that arrives here in Germany with seasonal vegetables and fruits, but also with typical Sicilian products like almond paste Bronte's pistachio, Marsala, primo sale cheese and provola from Ragusa. "Every week I suggest a different menu, so that even my regular customers are spoiled for choice". Daviduzzu offers three main courses: with meat, fish or vegetarian ones. " According to the sauce I prepare different types of pasta: linguine for sardines, fresh tuna, shrimps, mussels and clams. I choose short pasta, the so called "gamellini", similar to fusilli, for dressings like ricotta e fichi, norma, trapanese (that is pesto with almonds, basil, tomato and garlic) and for the sauces made with sausages and vegetables like broccoli, mushrooms and peppers. Often pasta is homemade, or sometimes is purchased and rigorously Italian, mainly from Catania. "Along with the main courses Daviduzzu offers both meat and fish second courses, like marsala chiken, rosemary potatoes or lemon sauce salmon fillet. Arancini are a must-have, the main food of the Sicialian street food: " I bake arancini acording to Catania's tradition: ragù, peas, tomato sauce, mozzarella and basil." Moreover there is an infinite choice of desserts, like cannoli, iris ( milk bread filled with chocolate cream , breaded and fried), crispelle with rise and honey, tiramisù, cream and fruits tartellette, panna cotta with dark, white and almond chocolate. "Recently I also offer Sicilian granita, mainly the one with almonds".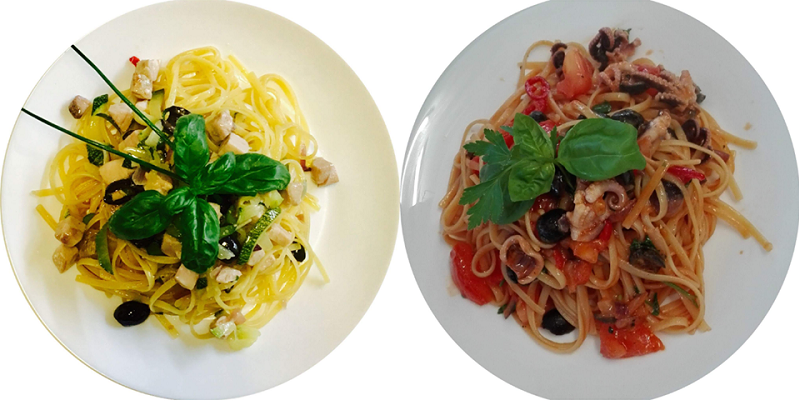 From Paternò to Berlin, the story of Davide Chisari
Davide was born in Paternò, a small town in the province of Catania. As a child, he was named "Daviduzzu" thanks to his small and thin size. Since then he has got that nickname. Davide had a clear idea of his future: he wanted to become a cook. Attracted to bakery right from when he was only 8 years old, Daviduzzo, every day, before going to school went to the bakery to watch how bread was baked. "I woke up at 4.30 a.m and I stayed inside the bakery till 7 o' clock, then I quickly ran to school. After middle school I attended the hotel and resaurant Insitute in Giarre, province of Catania. For the first two years I had the chance to learn all fields of restoration. I did my first work experiences at the Sigonella Inn, a restaurant and hotel near the famous American base in Catania. Thanks to this experience I understood that working as a waiter wasn't my thing. So I choose to obtain the qualification in gastronomy. From that moment on I have never abandoned the kitchen.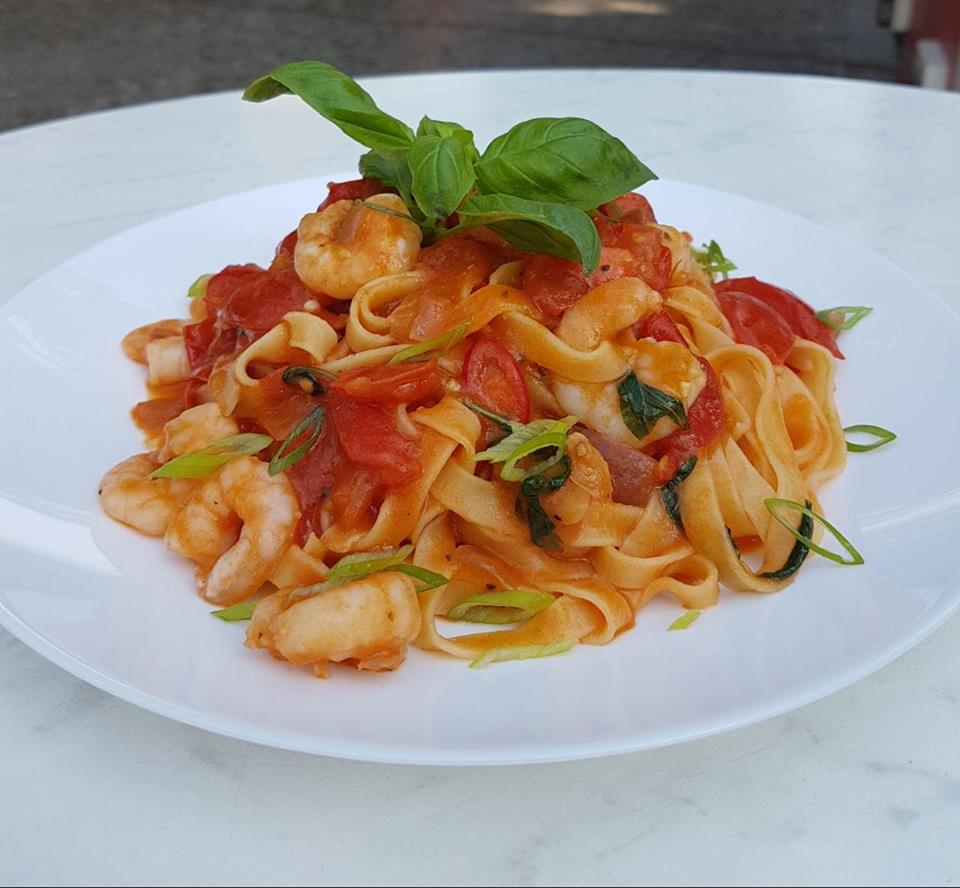 In Berlin between love and food
"I work in the kitchen since when I was 13 years old, by now. I started as a potato peeler in Sicily to later become sous-chef at the five star NH Torino Lingotto Congress hotel"Davide has worked also abroad. After having worked three years in Vienna he decided to move to Berlin in 2015. The choice was made because of love. His girlfriend is German and is called Jana. Like him she works for years as a chef, she is his sidekick. "Despite being German, Jana loves Italian food. She helps me to learn German language and understand German tastes". Davide initially worked as executive chef in an Italian restaurant in Berlin, then he slowly decided to create his own business. "My dream for the future is to open an Italian restaurant in Berlin. However I decided to buy a footruck for many reasons, like for example the possibility to move all around the city, understand the place in which my products are most appreciated, being able to present a varied menu without being bound by the classical ones of restaurants and furthermore have direct contact with the client.The hall of my restaurant is the street!". Davide bakes everything on the spot, from fresh pasta to arancini." The client has the chance to watch how I cook, how I prepare Tagliatelle, fish and artichokes. It's like attending a cooking class and clients are happy to see with their own eyes, what they're going to eat. Now I'm my own boss and I've never felt so free behind my beloved stoves".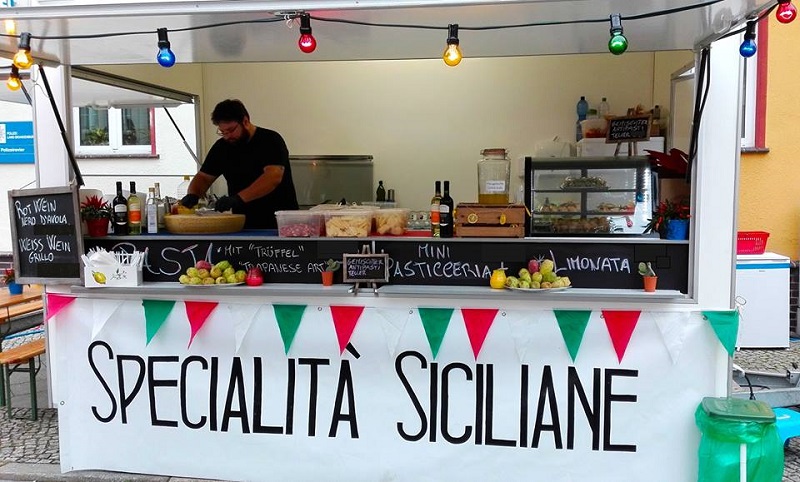 On Wednesdays from 8 AM to 1 PM and Saturdays from 8 AM to 2 PM
at Markt am Karl-August-Platz (Krumme Str. 23, 10627 Berlin)
On Tuesdays and Thursdays from 11 AM to 3 PM
at Streetfood Markt am Fehrbelliner Platz
Available also for caterings
Contacts: daviduzzuberlin@gmail.com